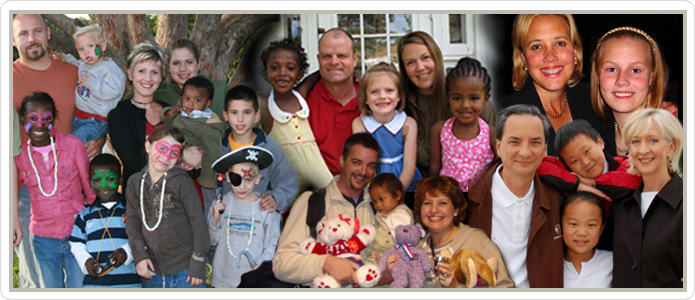 What Others Say

"After many years of working on adoption legislation I am so glad to know that an advocacy group is now available to advocate on behalf of adoptive families and their adopted children. There are groups in Washington that represent adoption agencies and adoption attorneys, but there has not been a group solely dedicated to advocating on issues before Congress for the benefit of adoptees and their families. I totally support the mission and goals of Equality for Adopted Children (EACH). As an original sponsor of the Child Citizenship Act of 2000 and two pending pieces of legislation, the Intercountry Adoption Reform Act and the Natural Born Citizen Act, I have long pursued equal treatment of adopted children with biological children. I look forward to working with EACH to ensure that all children are treated equally under federal laws."
U.S. Senator Mary Landrieu (D-LA)
"I am pleased to lend my support to the adoption advocacy group Equality for Adopted Children (EACH). As the grandfather of an adopted child, I understand the importance of ensuring that all children, whether adopted or biological, receive equal treatment under federal and state laws. I look forward to partnering with EACH to further their mission of providing much-needed support and advocacy for adoptive families."
U.S. Senator Jim Inhofe (R-Okla)
"Project HOPEFUL, began as a group of mothers concerned by the unyielding immigration waiver requirements necessary to adopt an HIV+ child from abroad. Our determination to change this process, which was truly endangering the lives of our waiting children, was met with resistance. Frustrated and hampered by our lack of experience, we finally found a light in the darkness when we joined forces with EACH. With dedication and passion for our cause and our children, EACH brought our issues to the forefront of debate and tirelessly advocated on our behalf. To our amazement and joy, within very short order the waiting time for waiver approval was substantially reduced and our children finally able to come home and join our families. EACH's efforts have allowed us to enjoy the most basic of rights: the opportunity to care for our children without restraint. We are eternally grateful for their advocacy and support."
Carolyn Twietmeyer
Project H.O.P.E.F.U.L., NFP (Helping Orphans and Families Eliminate Further Unnecessary Loss...of time, dignity and LIFE)
"EACH turned an extremely unpredictable and stressful situation into a success story for our family and changed the way U.S. visa waivers will be handled in the future for internationally adopted children. Our Ethiopian child, 6 year old Hana, came home to America months earlier than we anticipated due to Mclane Layton's desire and ability to cut through the bureaucracy that delayed Hana's homecoming and access to medical care. EACH is the reason that Hana spent the summer with her new family, learning to swim and ride a bike, while having access to medical care and support. She started first grade this month and is doing incredibly well!"

Sherry and Rick
Bemidji, Minnesota
"As a family who was caught up in the adoption moratorium in Cambodia in 2001, we have first hand knowledge of McLane Layton's effectiveness in working with Members of Congress and the Administration. She was one of the driving forces behind the decision to allow those of us with adopted children in Cambodia to bring our child home despite the U.S. imposed moratorium. Without her dedication and hard work we do not know whether our Cambodian daughter would ever have been allowed to come home to us. With our personal knowledge of the founder of EACH, our family whole-heartedly supports EACH and its mission to pass legislation that will streamline the foreign adoption process for adoptive families and ensure that our adopted children have the same rights as biological children."
Tom and Jennifer Rudolph
Tulsa, OK
"Without McLane Layton's compassionate and expert assistance, we would have found ourselves in a lengthy legal battle with the [then] Immigration and Naturalization Service. We were one of those families that adopted while overseas with the military. Although the adoption was final, INS refused to allow us to bring our daughter into the U.S., because she had reached her 16th birthday before the adoption was final. Under current law, immigration on the basis of adoption is only available if the child hasn't reached their 16th birthday when the adoption is final.
As Legislative Counsel for Senator Don Nickles, McLane was able to obtain humanitarian parole for our adopted daughter. As a result of McLane's timely and targeted actions, we had the appropriate immigration travel documents and were able to bring our daughter home to the U.S. Senator Nickles introduced a private relief bill on behalf of our daughter to provide her with U.S. citizenship and McLane led the successful passage of this legislation in both houses of Congress, leading to the President signing Private Law 108-1 in July 2004.
McLane is an excellent advocate on behalf of adopted children. It is great to see that she is continuing to represent the interests of these children and their families in her new role as President of Equality for Adopted Children."
Dennis and Mary Heath
Stonewall, OK
"If you are looking for an advocate relating to international adoption, McLane Layton is the answer to your prayers. Our family embarked on adopting our then-15-year-old daughter, Claudia, from a Romanian orphanage in 2002. We traveled to Romania twice, completed all the rigorous tasks associated with an international adoption and made sure to follow the strenuous regimen to the "letter of the law." Despite our best efforts, our daughter turned 16 prior to the process being completed, which meant, according to the American Embassy, that she was no longer defined as an "orphan" and thus would not be able to come home to America with her family! We were told that our only avenue to rescuing our daughter from a life of certain poverty and destitution was the granting of a Humanitarian Parole. We applied for Humanitarian Parole twice and were denied twice.
Enter McLane...Anyone I mentioned her name to knew exactly who I was talking about. She is well respected, gets to the heart of the matter quickly and--most importantly--gets results! Although Romania had a moratorium on international adoptions in place at the time and our daughter had passed the tolling age of 16, McLane realized that because our paper work had been filed with the U.S. government before Claudia turned 16, she was not precluded from immigrating to the U.S. as an adopted child (a fact that had been overlooked by the American embassy officials in Romania). McLane worked with INS and the American consular officials in Romania to clarify the law on this matter. Because of her work on our behalf, our daughter was able to come home to us in January of 2004! We will forever thank McLane for her diligent efforts, exponential kindness and ability to make the impossible possible. May God bless her in her efforts to make a difference!"
Melissa Warren
Portland, Texas
Help EACH continue to advocate on behalf of adopted children...more.
Help Support the Cause!
EACH needs your help to achieve equal treatment of all children of American citizens whether they were adopted by or born into an American family. Please voice your support for this cause by joining EACH. Membership is free!...More